Hexylresorcinol Lightening Gel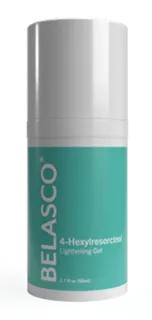 ---
HEXYLRESORCINOL
LIGHTENING GEL
---
4-HEXYLRESORCINOL
LIGHTENING GEL
Hexylresorcinol provides antioxidant and skin protective benefits while minimizing photosensitivity and discolorations. It is an age-fighting agent that helps to prevent glycation (sallow, yellow skin) and encourages regeneration of the skin by stimulating cellular turnover as well as glutathione, a key component in tissues that strengthens collagen.
Image download failed.Hexylresorcinol also promotes the appearance of even tone while reducing future discolorations. This makes Light Even Tone Correcting Gel an excellent product for pre- and post-procedure regimens.
---
INDICATIONS | All skin types for aging concerns/discolorations, Fitz I-VI.
---
KEY INGREDIENTS
Hexylresorcinol 1% – an antioxidant with skin lightening effect due to having a strong inhibitory effect on tyrosinase enzyme activity that leads to melanin synthesis. It has also shown to help reduce the appearance of undereye dark circles.
Niacinamide 2% – a form of Vitamin B3 that strengthens many functions of the skin including water retention and reducing sensitivities like inflammation which could lead to pigmentation. It helps to control sebum to reduce acne severity, as well as reduce melanosome transfer which helps to improve the appearance of brighter skin.
---
PRO TIPS
Use sunscreen daily for maximum protection from photodamage.
Alternate with Retinol Complex or Rx melasma emulsion or at nighttime.
Recommend as part of pre- and post-procedure regimens to minimize risk of post-inflammatory hyperpigmentation (PIH).
Use as an alternative to HQ therapy or when cycling off from Hydroquinone.
FULL INGREDIENTS Water (Aqua), CarthamusTinctorius (Safflower) SeedOil, Propylene Glycol, Polyacrylate-13, Niacinamide, Polyisobutene, Hexylresorcinol, Xanthan Gum, Sodium Hyaluronate, Squalane, Polysorbate 20, Phenoxyethanol, Ethylhexylglycerin.