G-S 5/2 Exfoliating Pads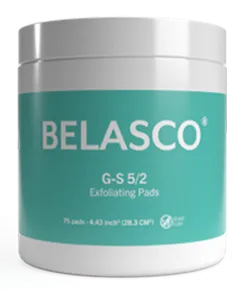 ---
G–S 5/2 EXFOLIATING PADS
---
G–S 5/2
EXFOLIATING PADS
These convenient toner pads facilitate deeper removal of makeup, oil, and debris for smoother texture and oil control in all skin types. They are incredibly functional, perfect for daily use, and will aid in cellular turnover. This will further benefit the penetration of other ingredients from your daily skincare routine, as well as improve makeup applications for a flawless finish.
These pads work to keep your pores clean and your skin balanced, while also helping to reduce the appearance of fine lines, uneven texture, and discolorations.
---
INDICATIONS | All Skin Types
---
KEY INGREDIENTS
Glycolic Acid 5% – an AHA with the smallest molecule for enhanced penetration, excellent as a degreasing agent and has been shown to strengthen collagen fibers.
Salicylic Acid 2% – a BHA which is lipophilic and excellent for removing excess oil and buildup of debris inside the follicles. Will help to minimize acne, blackheads, and ingrown hairs.
Witch Hazel - an astringent with anti-inflammatory and antioxidant benefits.
---
PRO TIPS
..
These pads are pH 4 and can be recommended for daily use.
Exfoliating pads are great for use on the body as well such as back and shoulders for acne control, and backs of the arms for keratosis pilaris.
Use these pads in-office for peeling prep and to facilitate extractions.
FULL INGREDIENTS Water, Alcohol Denat, Glycolic Acid, Sodium Hydroxide, Salicylic Acid, Butylene Glycol, Hamamelis Virginiana (Witch Hazel) Water, Polysorbate 20, Phenoxyethanol, Ethylhexyglycerin, Disodium EDTA.